MASSAGE RESEARCH
Canadian Massage Therapist Alliance
Canadian Sport Massage Therapists Association
Canadian Touch Research Centre
MASSAGE THERAPY ASSOCIATION LINKS
Canada - Provincial Associations:
ALBERTA:
Massage Therapy Association of Alberta
Remedial Massage Therapists Association
BRITISH COLUMBIA:
Massage Therapist's Association of British Columbia
MANITOBA:
Massage Therapy Association of Manitoba
NEW BRUNSWICK:
New Brunswick Massotherapy Society
NEWFOUNDLAND & LABRADOR:
Newfoundland and Labrador Massage Therapists Association
NOVA SCOTIA:
Massage Therapists' Association of Nova Scotia
ONTARIO:
Registered Massage Therapists' Association of Ontario (RMTAO)
College of Massage Therapists of Ontario
Ontario Council of Private Massage Therapy Colleges
PRINCE EDWARD ISLAND:
PEI Massage Therapy Association
SASKATCHEWAN:
Massage Therapist Association of Saskatchewan Inc.
Canada - Other Associations:
Natural Health Practicioners of Canada
Canadian Massage Therapist Alliance (CMTA)
Canadian Sport Massage Therapists Association (CSMTA)
Canadian Massage Therapy Council for Accrediation


Federation of Massage Therapy Regulatory Authorities of Canada


Ontario Council of Private Massage Therapy Colleges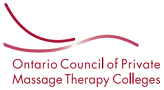 United States:
American Massage Therapy Association
PUBLICATIONS
The Following publications are good sources of information about massage and bodywork.
Journal of Bodywork & Movement Therapies
www.bodyworkmovementtherapies.com
Massage and Bodywork
www.massageandbodywork.com
Massage Magazine
www.massagemag.com
Manual Therapy
www.harcourt-international.com/journals/math/
Massage Therapy Journal
http://www.amtamassage.org/journal/home.html
Massage Therapy Research Consortium
www.massagetherapyresearchconsortium.com
Massage Therapy Today: Putting Knowledge Into Practice
https://secure.omta.com/default.asp?id=415
Massage Today
www.massagetoday.com
GOVERNMENT AGENCIES
For information regarding the practice of massage therapy and bodywork, contact the following agencies.
Grants.gov
http://www.grants.gov/
National Institutes of Health (NIH)
www.nih.gov/
National Center for Complementary and Alternative Medicine
http://nccam.nih.gov/
White House Commission on Complementary & Alternative Medicine Policy (WHCCAMP)
www.whccamp.hhs.gov/
EDUCATIONAL RESOURCES
A variety of sources of information.
How to Find What You Want on the Web - An internet primer with instructions on how to use the World Wide Web including tips for researching on the Web. Click here to view .pdf file.
The Integrator Blog - http://theintegratorblog.com/site/
Courses
The Massage Therapy Research Curriculum Kit. This research curriculum developed for use in massage and bodywork schools will be published by the Massage Therapy Foundation and available for purchase by January 2004. Click here (pdf) to learn more about this product.
Locate Full Text Articles:
Books:
Leon Chaitow ND DO
http://www.leonchaitow.com
OTHER ORGANIZATIONS
A list of organizations with a variety of objectives relative to massage therapy and bodywork and health.
AMTA Council of Schools (COS)
www.amtamassage.org/becometherapist/council.htm
Alliance for Massage Threrapy Education (AFMTE)
www.afmte.org
Associated Bodywork & Massage Professionals
www.abmp.com
Canadian Interdisciplinary Network for Complementary and Alternative Medicine Research (IN-CAM)
www.incamresearch.ca
Canadian Massage Therapist Alliance (CMTA)
http://www.cmta.ca/
Canadian Touch Research Center
www.ccrt-ctrc.org/
Commission on Massage Therapy Accreditation (COMTA)
www.comta.org
Massage Therapy Schools Website (USA)
http://www.massagetherapyschools.net
Mesothelioma
http://www.mesotheliomasymptoms.com/
National Certification Board for Therapeutic Massage & Bodywork (NCBTMB)
www.ncbtmb.com
Orthopedic Massage Education & Research Institute (OMERI)
www.omeri.com
Spa Alliance
home.spamassagealliance.com/index.html
Touch Research Institute
www.miami.edu/touch-research/index.html
The Upledger Institute - Your Health Resource Center
www.upledger.com